Gluten Free Flour ideal for Pizza by Polselli - 2.2 lb.
Sale!
A blend perfect for making bread, pizza and focaccia bread, thanks to its elasticity, good crumb structure and pleasant flavour.
Qty available:
6
SKU:
8009685000659
Customer Reviews
Write a Review
Ask a Question
An ingredient list in English would be helpful
So I've been baking many years with various gf flours and was excited to see this one. Unfortunately, the ingredient list isn't available in English and for the life of me I can't see whether this flour contains xanthan gum. All outcomes are determined by whether a recipe has to be modified to include other ingredients so it would be helpful to know. Is this a pizza flour mix that only needs some yeast and water and oil to make it work? I really want this flour to work as I purchased three bags and it isn't inexpensive.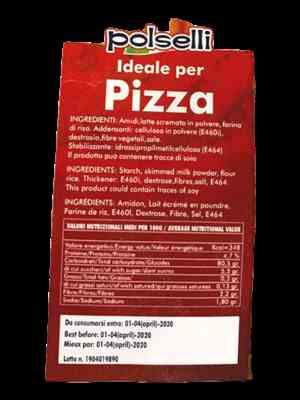 08/22/2019
Italian Food Online Store
Hello Meredith, the ingredients list is available in English and it's on the bag of flour.